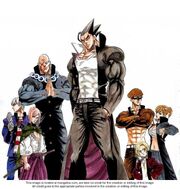 The Banchou Alliance is a group of banchou who were defeated by Akira and join forces with him and aid him in battle. They were five members of the banchou alliance and it was made when the Five Dark Vows attacked Akira highschool but then two more member join in. The Banchou Alliance have a lot of outside help to aid them in battle. In the final chapter they all went on they own way but still hang out as friends.
The Alliance was made when the Five Dark Vows attacked Akira and his high school but Kiriu, Yuu, Raionji, and Kobushi came in and aided him and made an Alliance with him.
The team was form when Yuu, Kiriu, Raionji, and Kobushi form a alliance with Akira to stop the Five Dark Vows and help Akira.
Outside Allies
Edit
Ad blocker interference detected!
Wikia is a free-to-use site that makes money from advertising. We have a modified experience for viewers using ad blockers

Wikia is not accessible if you've made further modifications. Remove the custom ad blocker rule(s) and the page will load as expected.