Haruya Kaburagi
Name
Name
Haruya Kaburagi
Kanji
鏑木 晴矢
Romanji
Kaburagi Haruya
Title
Kabuki Banchou (カブキ番長)
Profile
Race
Human
Gender
Male
Age
17-18
Likes
Flashy pose
Dislikes
Cowards and cowardly moves
Professional Status
District
Katsushika District
Occupation
Five Dark Vows
Personal Status
Relatives
Unnamed father
Powers
Fighting Style
Kabuki
First Appearance
Manga Debut
Chapter 24
Image Gallery
Haruya Kaburagi (鏑木 晴矢, Kaburagi Haruya) is the banchou of the Katsushika District. He is the Kabuki Banchou. He wears kabuki make up and wants everything he does to appear "flashy" and with style. He is the son of the president of the Kaburagi, his favorite food is mitarashi dango with roosted green tea. He does everything using kabuki poses and stances referring to what he does as performances he hates cowards and cowardly moves which is ironic since his fighting style revolves around using hidden puppet-like arms to attack and keep his enemy at bay rather than fight himself. His loathing of cowards made him single out Hikyou Banchou as his opponent, the arena he picked was the simplest since it didn't give Hikyou Banchou any cover to set up any kind of trap or counter attack. He had 300 underlings.
Five Dark Vows Arc
Edit
Haruya and the other Five Dark Vows invade Akira high school to beat him. Ryougen was the first to found him while beating up some student but Akira came in and try to stop him. But then four more banchou came in! They told Akira that they are the Five Dark Vows and they made an allies to defeat him? Akira start fighting the Five Dark Vows but they were too many of them and when they almost finished him off but then the people Akira defeated Iai, Hikyou, Nenbutsu, and Gouriki came in and try to save Akira? Haruya and The Five Dark Vows summon all they underling to defeat them but they all defeated them with ease. The Five Dark Vows decided to continued the fight some other time and will tell them when and Haruya pick Yuu to fight since he hates cowards.
When the
Banchou Alliance
 came to the abondonded military base he and the others told them they gonna fight in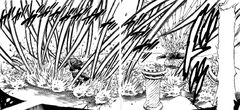 a one-on-one fight and they will fight in different level of the base and each one have a suprise in them. Haruya was the first and he challeges Yuu and he choices a simplest since it didn't give Hikyou Banchou any cover to set up any kind of trap or counter attack, He was beating Hikyou Banchou when his stomach started acting up which made him realize the 10 dangos he had before the battle were given to him by Hikyou Banchou (he didn't know since only a very few people know what Hikyou Banchou looks like outside of his banchou clothes) were laced with a very powerful laxative making him abandon the fight to rush to the bathroom which to his horror didn't have any toilet paper (which might have also been planned by Hikyou Banchou). Haruya try to kill the Banchou Alliaces and his own team to gain they district by senting the stage to expolde. After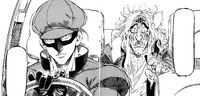 he tried to kill Akira's group and his own, he tried to escape when he found a taxi and asked the driver to take him home when the driver offered him roasted green tea he happily accepted, only after he hearing the driver say it was his favorite he became afraid and realised it was Hikyou Banchou driving the taxi and had drugged his tea. Afterwards he never left home again and is now afraid of his favorite food.
He use a wooden box on his back filled with battle-ready puppet arms to fight.
Thousand Stabs of the Thousand Armed Goddess (千両千手観音刺し, Senryō Senju Kannon-zashi): Sends out all of his puppet arms with bladed tips in order to overwhelm his enemy with the sheer number of blades randomly raining down on them.
Thousand Slashes of the Holy King's Ring (千両金輪聖王斬り, Senryō Konrin Jōō-giri): By packing all his puppet arms together the function like a giant bladed whip.
Kabuki Banchou is based on Aramaki Kazuo's (30) "Kabuki Banchou" design.
Ad blocker interference detected!
Wikia is a free-to-use site that makes money from advertising. We have a modified experience for viewers using ad blockers

Wikia is not accessible if you've made further modifications. Remove the custom ad blocker rule(s) and the page will load as expected.